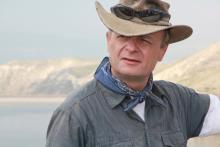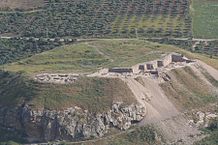 In 2005 crucial decisions were made regarding the future direction of the GPIA. First of all, a stronger connection has been established between both branches of the GPIA in Amman and Jerusalem: They merged into one Institute. Since then they do research together, carry on archaeological projects together and appear as one Institute in the world of archaeological scholarship. This unity manifests in the new design of the logo. In addition, Prof. Dr. Dr. Dr. h.c. Dieter Vieweger was appointed director of both institutes in November 2005. The director of the GPIA is simultaneously the substitute of the provost in Jerusalem and manages the educational programm of the German Evangelical Church in Jerusalem.
Another important development is the closer connection of the GPIA to the German Archaeological Institute (DAI), which is specified in the new statute. The close relationship between GPIA and DAI is reflected in the changed signature of the GPIA with the addition "simultaneously research center of the German Archaeological Institute".
Innovations were also made to the archaeological course, which is now modularized and topic-oriented. The Institute thus offers young academics from a theological, archaeological or other related background the opportunity to get to know the Middle East and to deepen their knowledge.
Central to the GPIA is, according to the statute, the exploration of the Holy Land on both sides of the Jordan and the public promotion of the newest insights regarding archaeology and culture of this region. In this context the "Gadara Region Project" with the excavation at Tall Zira'a came into focus. Prof. Vieweger works closely with Dr. Jutta Häser: Both were in charge of the project between 2004 and 2013.
Since 26. December 2005 renovations started at the GPIA Jerusalem, not only creating appropriate space for the library and the collections of the Institute, but also adding five new guest rooms. Thus was placed a new emphasis in the institute's work: The GPIA became a meeting place for scholars, who pursue their own projects.
Further key aspects of the work of the GPIA during the following years were:
Fostering relations to other institutes in Israel and worldwide
the promotion of scholarship in the area of Jerusalem.